Onstar Insurance and Discounts
General Motors has launched its new insurance agency, OnStar Insurance Services, which will be the exclusive agent for its own OnStar Insurance company. GM customers who have subscribed to OnStar and connected services will be eligible to receive discounts, while also receiving fully-integrated services from OnStar Insurance Services.
The service is currently working with its insurance carrier partners to remove biased insurance plans by focusing on factors within the customer's control, which includes individual vehicle usage and rewarding smart driving habits that benefit road safety.
OnStar Insurance Services plans to provide customers with personalised vehicle care and promote safer driving habits, along with a data-backed analysis of driving behaviour. OnStar Insurance monitors the behavior of its policyholders in order to factor driving behavior into its rates. Good drivers may see cheaper rates and extra opportunities for discounts if they demonstrate safe habits on the road.
OnStar Insurance Services seeks to create a centralized location for customers' automotive insurance needs. In the coming years, OnStar will work to provide customers with a seamless insurance shopping experience. With OnStar Insurance Services, convenient online support will be available, and OnStar Insurance Services' agents will stand ready to help customers with insurance needs.
Take a look at the three ways you could potentially earn insurance discounts*:
1. Active Member Discount
Many insurance providers know the value of OnStar and are willing to give our Members savings simply for activating the service. See participating insurers and savings in your state below.
2. Low Mileage Discount
If you opt in to a low mileage discount program with a participating insurer in your state, OnStar can verify your actual mileage through diagnostics reports. The fewer miles you drive, the greater your discount could be.
3. Good Driving Discount
Drive smarter and save. The OnStar Smart Driver* program provides you with information that can help you reduce wear and tear on your vehicle, improve mileage and become a better driver. You can check for insurance discounts with participating insurance carriers, giving you a private, risk-free option to find rewards for driving smart.
Select your state to find out how much you can save
Find participating companies in your state.
Learn more at https://www.onstarinsurance.com/.
How much does OnStar Insurance cost?
OnStar Insurance may be much more expensive than its competitors for drivers who don't qualify for any discounts.
Upon comparing the costs of car insurance for a driver of a Chevrolet Equinox with OnStar and a few of its largest competitors, ValuePenguin found OnStar Insurance was usually one of the most expensive options for full and minimum coverage.
In Phoenix, OnStar Insurance offered the most expensive car insurance. For minimum coverage, it was over $1,000 more expensive per year — for the same vehicle — than Farmers. While OnStar estimates that its customers could see up to a 20% reduction on their car insurance policies by signing up for coverage, this discount wouldn't improve the company's ranking.
Cost of Onstar car insurance compared to its competitors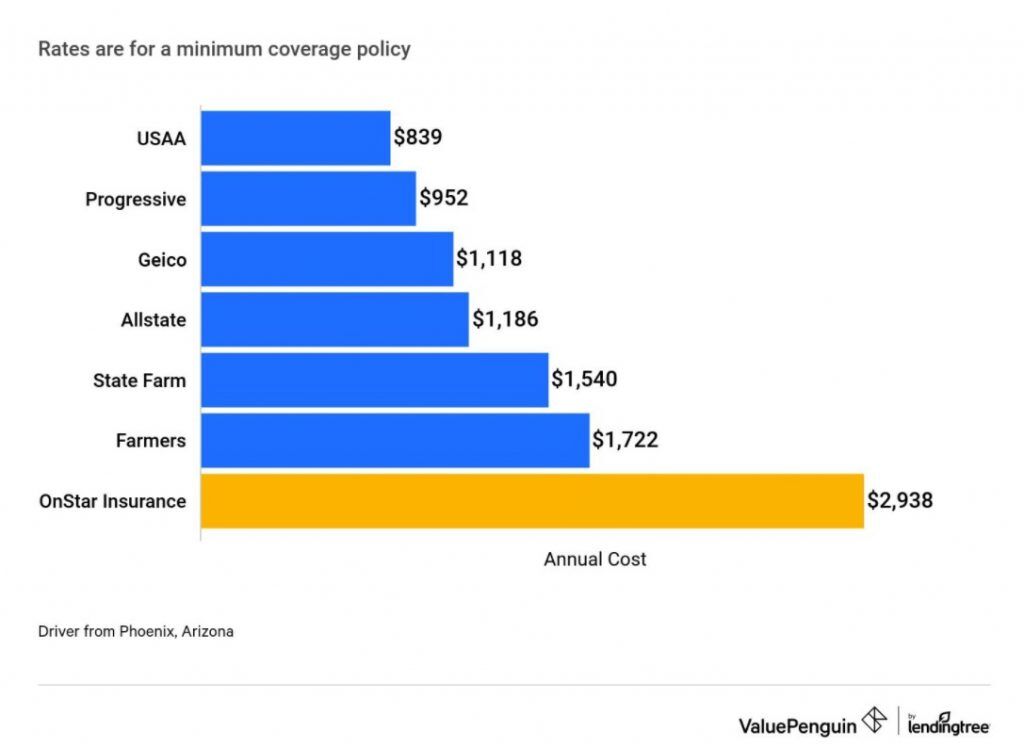 | Insurance provider | Annual cost | Six-month cost |
| --- | --- | --- |
| USAA | $839 | $420 |
| Progressive | $952 | $476 |
| Geico | $1,118 | $559 |
| Allstate | $1,186 | $593 |
| State Farm | $1,540 | $770 |
| Farmers | $1,722 | $861 |
| OnStar Insurance | $2,938 | $1,469 |
Rates are for a 2018 Chevy Equinox.
Does OnStar Insurance offer homeowners insurance?
Yes, they offer homeowners coverage through our partner network.
Do you offer insurance for vehicles without OnStar?
Yes, they do, however, not all discounts are available to vehicles without OnStar.
Does OnStar Insurance come with the OnStar Safety & Security Plan?
Where is OnStar Insurance available?
OnStar Insurance is available in select states and quickly expanding in 2021. Currently, drivers can only sign up for OnStar Insurance in Arizona, but the insurer plans to expand to other states by the end of this year and through 2021. According to the insurer's website, discounts won't be available right away in California, New York or North Carolina following its expansion into those markets.
Will OnStar Insurance Services offer Homeowners Insurance?
Yes, they will offer homeowners coverage through our partner network.
Do you offer insurance for vehicles without OnStar?
Yes, they do, however, not all discounts are available to vehicles without OnStar.
* General Motors and its affiliates are not insurance carriers. You should only obtain insurance from licensed insurance carriers. Insurance discounts are currently not offered in California, New York and North Carolina. Insurance carriers offer discounts at their discretion and may not provide additional discounts to existing customers.
* Requires a capable 2015 model year or newer GM vehicle and active service plan. Check here for details and limitations.