Amazon Alexa In-Vehicle App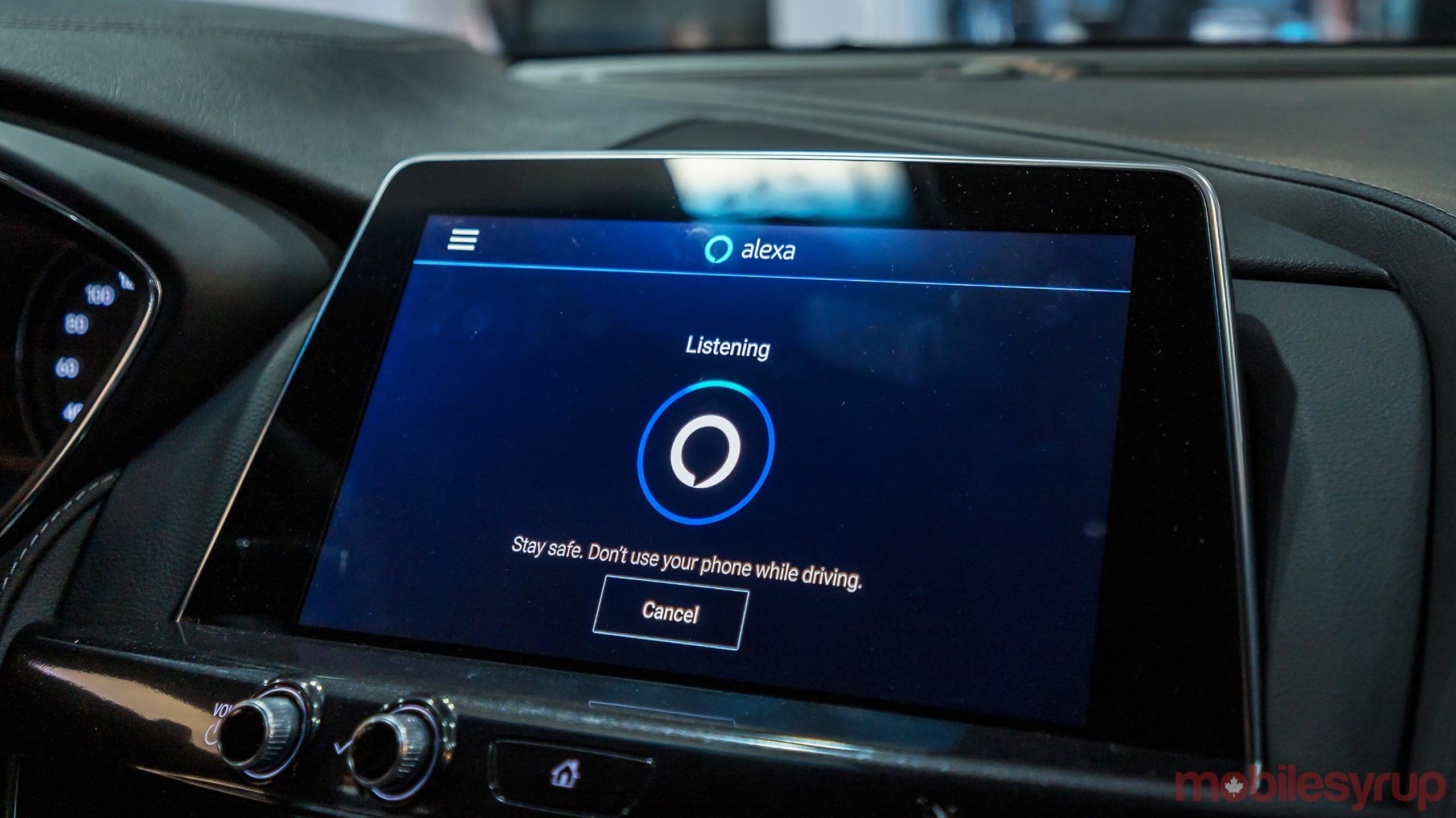 f you have ever wanted to take Amazon Alexa functionality with you on the road, now you can with Alexa Built-In — the new in-vehicle app that is available on select 2018 and newer GMC vehicles with compatible infotainment systems. The Amazon Alexa digital assistant technology is now arriving on new GM vehicles, offering up a host of convenient voice recognition commands for new vehicle owners.
This app can be accessed via the GMC Infotainment System while keeping your hands on the wheel and eyes on the road. Once an Amazon account is linked, thousands of skills and features used at home can be accessed from inside a GMC vehicle. These can include streaming audio media, adding items to an Amazon or Whole Foods Market cart, and controlling compatible smart home devices.
Alexa Built-In features to help keep you connected and informed
Stream news, music, your favourite books — even change the radio station
Stay up to date on important health and safety updates
Confirm Amazon package delivery status
Control your smart home — turn on your house lights or open your garage door
Find nearby restaurants that deliver to your door
Request directions and destinations, get them sent to your vehicle's available navigation system
Stay in touch with friends and family with hands-free calling and messaging
Access an ever-growing list of Alexa features and skills
Alexa Built-In is available in eligible 2018 and newer Chevrolet, Buick, GMC and Cadillac vehicles. Your data plan already includes this service, so start asking Alexa today — and you can always surf and stream on up to 7 devices.
Amazon Alexa offers voice recognition for numerous infotainment capabilities. These include voice commands for audio streaming services, such as SiriusXM, Spotify, Pandora, and Amazon Music. What's more, owners can use Amazon Alexa to place an online order, or track an existing order, as well as add something to a shopping list without taking their eyes off the road. Further functions include placing phone calls, checking the weather, and finding nearby gas stations.
SETTING UP ALEXA BUILT-IN
To start, users must have a Connected Services data plan or data trial, as well as an account with Amazon to use Alexa Built-In.
A plan can be purchased by going to my.gmc.com. You can also speak with an advisor directly by calling 1.888.4.ONSTAR or by pressing the blue OnStar®† button in your GMC.
Next, with the vehicle parked, follow these simple steps:
Download and open the Alexa Built-In app from the GMC Infotainment System. Since there are multiple screens, users may have to swipe to find Alexa Built-In.
Once the setup screen appears, a prompt will ask the user to touch the Get Started button.
The screen will then display a terms and conditions page. To accept, touch agree and then the continue button.
Next, sign in to Amazon by going to Amazon.com/code on a smartphone, tablet or laptop, and enter the code that appears on the infotainment screen. There's also a second sign-in option of using a smartphone or tablet to scan a QR code that appears on the touch screen.
The final step is to select the preferred method of waking Alexa from the Push to Talk button on the steering wheel or by tapping the Alexa icon on-screen. By choosing the steering wheel button, Alexa will become the default voice system for the vehicle.
To get more information on the Alexa Built-In and other apps, visit the GMC In-Vehicle App Experience page.
How It Works
To use Alexa, you don't need an additional device — it's already integrated into your infotainment system along with your available In-Vehicle Apps.
There are a few requirements for using Alexa Built-In, including:
A properly equipped vehicle
A connected Services trial (included at no additional cost with new vehicle purchase) or select paid Connected Services plans (if post-trial)
An Amazon account
Completing the setup process and linking your applicable accounts
Allowing Alexa to access your vehicle's location and microphone